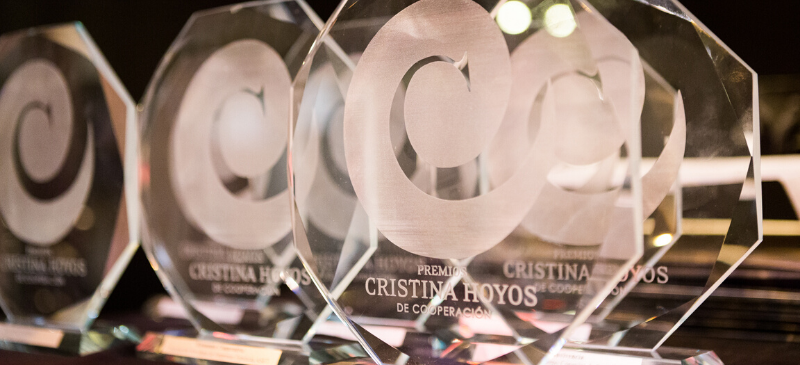 Cristina Hoyos Awards for Flamenco Cooperation
II EDITION OF THE CRISTINA HOYOS AWARDS FOR FLAMENCO COOPERATION
The Flamenco Dance Museum celebrated the II Edition of the Cristina Hoyos Awards for Flamenco Cooperation; a recognition of the non-artistic entities and professionals who, with their work, make it possible for flamenco to be an economic means of living, giving rise to the consolidation of the great Seville Flamenca brand and of Flamenco in general. This initiative also represents the recognition of all professionals who live directly from this heritage.
Likewise, artists who have given their lives to the dignity of this art received recognition.
The awards ceremony took place on November 13 at 12:00 pm, at the Flamenco Dance Museum in Seville, within the scope of the International Flamenco Day. They are last year's winners who deliver the awards along with other dignitaries. The event had its full capacity, and was attended by personalities and officials from the economy in general, culture, tourism and art, as well as representatives of the hotel, restaurant, travel agency and press sectors.
2nd Edition of the Cristina Hoyos Awards – Museum of Flamenco Dance
List of winners and deliverers in the second edition:
Intercultural Communication and Extension of Flamenco for Casa Patas
delivered by D. Gustavo de Medina – ASET
Peace and Coexistence for the City Council of Utrera
delivered by Mr. Joe Cooper – Consular Corps Association of Seville
Cooperative Economy for Álvarez & Bernal Guitar Shop
delivered by Ms Kay Woo
Integrative Marketing for Flame Guide
delivered by Mrs. Anastasia Krivoshanova – Flamencotickets
Transfer of Patrimony to Manuel Domínguez Marín "Manolo Marín"
delivered by D. Manuel Macías – Seville Convention Bureau
Merit of a lifelong career in flamenco for Antonio Fernández Díaz "Fosforito"
delivered by Mrs. Cristina Hoyos and D. Manuel Martín Martín – Museum of Flamenco Dance
I EDITION OF THE CRISTINA HOYOS AWARDS FOR FLAMENCO COOPERATION (December 12, 2018)