The Flamenco Dance Museum
Discover the world of flamenco in a magical place: the Cristina Hoyos Flamenco Dance Museum. Located in the heart of Seville, a visit is a 'must' for any visitor to the city who wants to know and feel the main cultural heritage of Andalusia: flamenco. On its four floors you can discover the unique and singular world of flamenco in all its facets. Written and spoken in 6 languages: Spanish, English, French, German, Chinese and Japanese.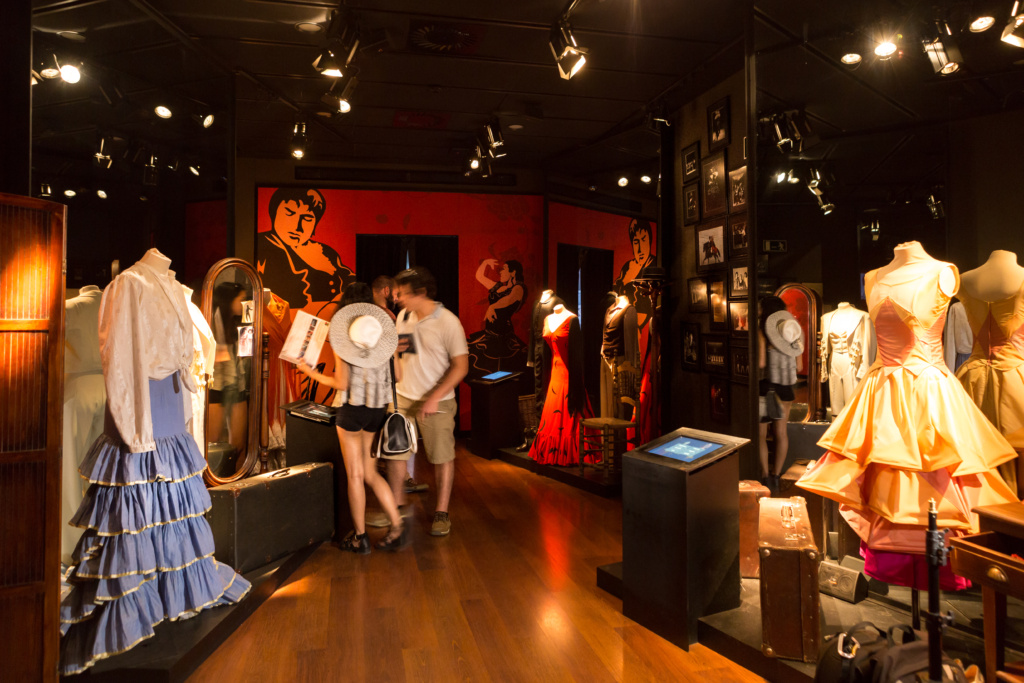 Main stage, dance hall and museum shop
In the courtyard of the museum the main stage greets the visitors, offering every night the best artists with a flamenco of extreme beauty and emotion. The most original flamenco souvenirs await us in the museum shop.
Interactive museum on the history, styles and costumes of flamenco dance
The interactive floor  is the soul of the museum. Through its screens you can understand the origins and evolution of flamenco, discover the influences of other cultures, the richness of its styles and objects from different periods that tell us about the artists and their history over the last two centuries. A giant semi-circular screen will allow you to immerse yourself in an authentic flamenco choreography.
Temporary exhibitions of paintings, drawings and sculptures.
The first floor is the museum's art space: temporary and interactive exhibitions show the influence of flamenco on artistic disciplines such as painting, drawings and sculptures by national and international artists from France, USA, Germany, Poland, Israel, Korea and China among others.
Historical vault of the museum
The basement is the most unique space in the museum, a historical vault with Roman and pre-Roman stones. In this centenary environment our visitors are immersed in the most direct flamenco, the most VIP show in Seville. It is also an exceptional place for other events, exhibitions, dance classes…
Book your ticket to the Flamenco Dance Museum. Visiting hours: 10:00 – 19:00 (last entrance at 18:15)
We offer guided tours for groups and school groups in Spanish, German, English, French, Italian, Korean, Chinese and Japanese.
GET INITIATED IN FLAMENCO!
Do you want to complete your visit with a very original experience? We offer flamenco initiation and percussion classes in which you will feel all the rhythm and beat of the best professionals
For group visits, ask for information about availability and prices at: grupos@museoflamenco.com