Museo del Baile Flamenco's main objective is that its areas and services are universally accessible. Accessibility has been integrated into museum's own management since its opening and creation, always keeping into account which is a necessary acquired value to have today, also keep maintaining the effort and always advancing into this field.
In its commitment to guarantee access and enjoyment to one of Andalusia's most important heritage sites, Museo del Baile Flamenco takes into account all the particular requirements of all people with disabilities or reduced mobility, or specific needs to make this structure accessible to everyone.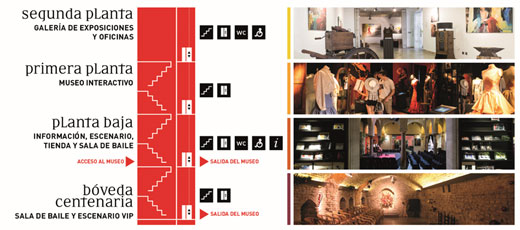 – SECOND FLOOR => Art Gallery, Expositions and Offices.
– FIRST FLOOR => Interactive Museum
– BASEMENT => Information point, Theatre, Shop and Area for Flamenco Classes.
– ANCIENT STAGE => Area for Flamenco Classes and VIP shows.
SERVICES, FACILITADED ENTRY AND PREFERENTIAL ACCESS FOR VISITORS WITH DISABILITIES:
=> Museum is 100% accessible for wheelchairs or reduced mobility on its four floors via lift.
=> Tactile and interactive screens adapted to different heights to make them all accessible.
=> On ground floor there is an adapted disabled toilet, as well as a breastfeeding room and changing room.
=> Guide dogs are welcome here. Always following new regulations for assistance dogs.
=> We have a special rate for disabled people.
Contact us for accessible activities: comunicacion@museoflamenco.com
PARKING AND ACCESS FOR VEHICLES FOR PEOPLE WITH DISABILITIES
Municipal parking spaces for vehicles with disability badges in the streets around the building:
– C/ Jesús de las Tres Caídas, 4
– C/ Boteros, 38
– C/ Santa María la Blanca, 3
– C/ Madre de Dios, 4